Welcome to our visionary handbook! A Bolt Brand awaits you ⚡️
Welcome to the home of our Bolt Vision! This is our home for the visual identity and brand guidelines of the entire Bolt Global ecosystem. We encourage you to take a look around to get inspired!
​
​
​
​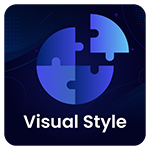 ​
​
​
​
​
The Bolt Global Boilerplate:
Bolt Global is a technology company which builds web3-enabled platforms and services for the next generation of the internet. Currently, Bolt Global operates three core businesses -
Bolt+
, a web3 media and live entertainment platform,
BoltX
, a self-custody NFT and digital asset wallet, and
BoltZap
, a web3-commerce marketplace.
Through Bolt Global's ecosystem of trusted partners, including Binance, Hisense Group, OneFootball and Euronews, users are able to experience global entertainment and gaming experiences, backed by best-in-class web3 integration and a wide distribution network. This is facilitated by a strategic partnership with
VIDAA
, the fastest growing operating system on Smart TVs for over 50 manufacturers, including Hisense, Toshiba, and Loewe TV, across 14 million Smart TVs.
At the heart of Bolt Global is a diverse team that originates from 18 different countries, including alumni from Tencent, Twitter, Zilliqa, and Goldman Sachs. Bolt Global is headquartered in London, United Kingdom, and backed by
Trovio Group
and
Plutus Investment Group
.